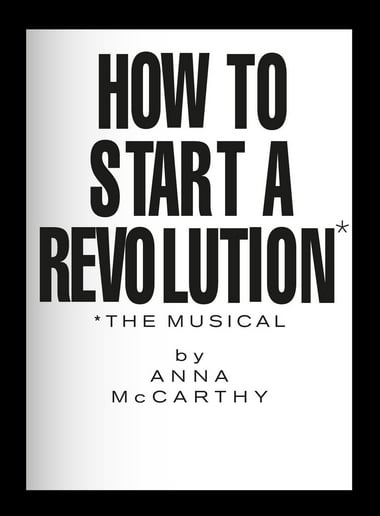 HOW TO START A REVOLUTION: The Musical
€

12.00
---
---
A musical adaptation of the multifaceted, facetious, ongoing project «How to Start a Revolution» by Anna McCarthy. It deals with the romanticization and synaesthetic manipulation tactics entailed in depictions of revolution, rebellion and recent history acted out by an ever-same group of bored rebels. Facts are mixed with fiction, layers are built upon layers, translations occur to create scenarios that manipulate a viewer's perception of what was and is truly real. 2-D actors and scenarios mix with 3-D action going on onstage. The «How To Start A Revolution» project has thus far manifested itself in the form of arrests, archives, films, photographs, and songs. But now it is time for the ultimate grand romantic gesture:
A MUSICAL – singing, dancing, screaming, and laughing at the question 'what time is it'?
It's a prophecy; it's a poetic pop spectacle.
Published by EDITION TAUBE